Last year was a banner year for the sand mining companies that cater to the US shale drilling services industry. That's because in 2014 well operators significantly increased the amount of sand used to complete fracturing operations in shale plays – from an average of about 5 MMlb for a single well to 15 MMlb (7,500 tons) or more. In 2015 however, the stock prices of frac sand producers has plunged in response to lower oil prices, producer drilling budget cutbacks and falling rig counts – signaling the industry is on the ropes. Today we describe how sand producers may be in better shape than expected.
Hydraulic fracturing (fracking) and horizontal drilling are the two technologies most responsible for the boom in extracting oil, natural gas and natural gas liquids from hydrocarbon bearing shale deposits over the past 8 years. These techniques involve high pressure stimulation using water and proppant (usually sand) to create small cracks in tight shale rock that allow oil and gas trapped in the formation to flow more easily into the well and up to the surface. When the water pressure is released, the fractures attempt to close but the proppant contained in the fluid keeps them open, making a ready path for oil and gas to flow into the well. Once a well is drilled vertically into the shale, horizontal laterals are drilled out in different directions and fracking is carried out in multiple stages along the laterals.
Three primary types of proppant are used in fracking; raw frac sand – generally mined at the surface, resin coated sand that has been treated to increase its strength and ceramic beads that are manufactured (usually from clay) to withstand greater pressure. The most popular proppant (85% of the market) is raw sand and the best grade of sand preferred by well operators is Northern White – found predominantly in Wisconsin. Sand quality for fracking is very important and is measured by particle size, shape (roundness) and crush resistance using standards set by the American Petroleum Industry (API).
2014 has been described as "The Year of Sand" in US shale plays because more frac sand was being pumped into every well. The reason that well operators used more sand was to improve well productivity at relatively low cost. Proppant has two tasks in the fractures – called conductivity and reservoir contact. Conductivity is the flow capacity created to allow fluid to move through the fracture and is generally improved by increasing the quality of the proppant (roundness and crush resistance). Reservoir contact improves when the fractures spread the well's access to bigger areas of the formation. Well productivity improves when more reservoir contact is achieved because a greater area of shale is exposed and better conductivity increases the flow of hydrocarbons back to the well. Generally speaking improving reservoir contact means using more sand and improving conductivity means using higher quality (more expensive) proppant like resin coated sand or ceramics.
Using trial and error methods endemic to the entrepreneurial nature of US independent producers, operators discovered that using more sand could improve well productivity and that increasing the volume of sand trumped increasing its quality. Figure #1 below gives an idea of the kind of improved economics experienced by producer SM Energy in the Eagle Ford wet gas window. The graphic compares "old" completions with 5000 foot laterals using 1,128 lbs/ft of sand to "new" completions using 80 % more sand (2,025 lbs/ft). Average well drilling and completion costs increased by less than 2% from $6.73 MM to $6.84 MM but the internal rate of return (ROR) increased by about 40% and net present value (NPV) increased by about $2 MM per well. Based on these numbers, the incremental cost of more sand is easily justified by the improved rate of return.   (Note that these metrics are based on 2014 prices, and have been impacted by much lower prices in 2015).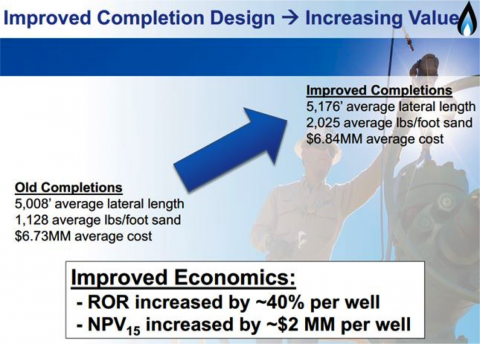 As a result of this kind of productivity gain, the use of raw sand as proppant has increased significantly over the past year. Some wells are now being completed with 5 times the sand that would have been pumped downhole a year ago. Oil service companies confirm that some massive fracs are taking place – with single wells completed using as much as 30 MMlbs of sand compared to the previous norm of 5 MMlbs. According to the US Geological Survey (USGS) Mineral Service, the use of frack sand doubled between 2010 and 2014 from 23 million tons/year (MMTPA) to 54 MMTPA.
The big increase in demand for sand last year caused considerable logistical headaches. The challenge was not producing enough sand to meet demand – there are close to 100 sand mines and plants operating in Wisconsin and more in development.  Instead the real problem was getting the sand to the wellhead on time. The principal transport used to move frac sand is covered rail hopper cars that deliver to terminals close to production sites from where the sand is trucked to the wellhead. Last spring well service companies experienced delays caused by too much rail traffic in the Midwest and as demand for sand increased – a shortage of rail cars, which developed a 24 month order backlog for new builds.
One result of this increased demand was that well service companies like Halliburton, Weatherford and Baker Hughes, entered into long term take-or-pay contracts with sand mine companies in order to satisfy large producers that they could guarantee supplies in case of shortages. Mine companies in turn increased their logistics operations to deliver sand to terminals in production regions rather than requiring customers to pick up sand in Wisconsin.
Another logistic challenge associated with the increase in demand for frac sand is accommodating deliveries and stockpiles at the wellhead. To help solve that problem, leading well service operator Halliburton Co now sells a custom "SandCastle" proppant delivery truck that can be inverted at the well site to act as a storage silo (see Figure #2 below).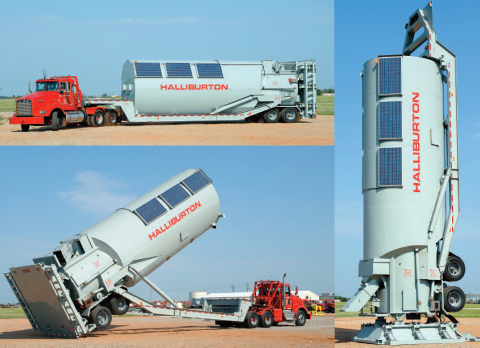 But this year the booming sand mine industry has hit the wall as the oil price crash has caused producers to cut back on new drilling. Weekly rig data from Baker Hughes shows the total US drilling rig count down 41% this year so far to 1069 (March 20, 2015). In the longer term such a dramatic drop in drilling activity is more than likely to result in consolidation among sand mine companies – not to mention the possibility of some casualties. Stock prices for these companies have fallen significantly.
However there is some reason for optimism – at least among the more efficient sand suppliers. That is because the fall off in drilling will be somewhat offset by the increased use of sand that we have described. Producers are now concentrating on their "sweet spot" wells and looking for every angle to increase well production. In other words although there will not be as many wells – those that are drilled will be bigger and the laterals will be longer – in some cases, much longer – requiring much more sand.
The drilling rig count data tells us that vertical rigs have been pulled out of service more rapidly than horizontal rigs so far. That means more of the remaining drilling will require fracking and frac sand. And, as many of the frac sand mining companies have been anxious to point out on earnings calls, a lot of their sand was contracted under take or pay contracts that guarantee payment whether their well service customers drill or not. Those contracts will protect them for a while.
In the longer term sand mine companies will continue to play a crucial role in the extraction of hydrocarbons from shale. We expect to see improvements in the efficiency of frac sand logistics – delivering sand from the mine to the wellhead. For most of these sand companies, this is their first experience of oil "bust" because they have only known "boom" until now. Like the large well services companies that are their clients they will have to learn to live with periodic busts – they come with the turf in this industry.
By Sandy Fielden of RBN Energy
Related posts