The Henry Hub in Louisiana in the U.S. is the best known natural gas trading location in the world. There is certainly no more liquid point in the industry. An average of 350,000 Henry Hub natural gas futures contracts trade on the CME/NYMEX each day. The Henry price is used to compute locational 'basis' at all other natural gas trading points in North America and thus is the reference price for tens-of-thousands of derivative instruments and other commercial contracts.
But the U.S. natural gas industry is changing rapidly. Henry started out as a supply market hub but a natural gas demand renaissance in and around Louisiana is transforming it into a demand market hub. How will this impact Henry and can/will it endure as the national benchmark price? First, some history.
In the Beginning
Trading of natural gas as a commodity is not something that goes back to the early days of the petroleum industry. Just over twenty-five years ago, most natural gas was sold by producers under long-term, life of lease contracts to pipelines at regulated prices. In 1985 that started to change with Federal Energy Regulatory Commission (FERC) Order 436 which created 'open access' on pipelines – in effect, allowing others besides the pipelines to ship gas. That in turn stoked the beginnings of a burgeoning spot market. Trade publications started to track prices at a variety of locations around the country, and for the first time there was some transparency in the market for natural gas prices. But it was still a very primitive market tangled up with legacy contracts and vestiges of price controls. Nevertheless, by the late 1980s natural gas started to be traded actively – mostly on a monthly basis during that magical period at the end of each month called bid week. The Natural Gas Decontrol Act finally wiped away the last vestiges of price controls in 1989.
By this time, futures contracts for crude oil and heating oil had already been trading for years on the New York Mercantile Exchange (NYMEX, now Chicago Mercantile Exchange). But when it came time to establish a natural gas futures contract, there was a problem:  A physical commodity futures contract needs a delivery point, preferably an industry-accepted benchmark, and at the time, there was no single location that was generally accepted as the reference price for trading gas. Gas was being actively traded in 40-50 locations around the country, most of them tracked by trade publications, but no one point stuck out as the benchmark. So it fell to the NYMEX to identify the best delivery location to use, something that met some generally accepted guidelines:  diversity of supply, reliability, and spot price liquidity. In the gas world, that meant the location needed to have connections with a lot of pipelines. It needed great reliability with a highly reputable operator. The market needed to use it for spot trading. And most importantly, it needed to have operational characteristics that would reduce the probability of any kind of curtailments or supply squeezes down to near-zero. Even though most futures contracts don't go to delivery, nothing is worse for a futures contract than a delivery glitch.
By late-1988 a NYMEX product development team had zeroed in on Texas as the best region for a futures contract because of the large intrastate market, and came up with a potential delivery point – the network of pipelines around Katy, (near Exxon's Katy natural gas processing plant), just west of Houston. The area had all the right stuff, and seemed to be a shoe-in for the delivery point. But it was not to be. That's because a team from Texaco's Sabine Pipeline swooped in to take the prize.
Sabine Pipeline and the Henry Gas Processing Plant
Sabine Pipeline, now owned by EnLink Midstream, is a small 150-mile long, 235-MMcf/d pipeline in Southern Louisiana with a long history at Texaco (now Chevron). It was part of a pipeline system that connected Texaco's Louisiana gas production operations with its refinery and chemical complex in Port Arthur, Texas (see map in Figure 1). The part of the system designated as Sabine ran from Texaco's largest natural gas processing plant just south of Lafayette, near a little place called Erath, across the Louisiana-Texas border (thus making it an interstate pipeline) and finally into the Port Arthur area where it connected to Texaco's refinery, chemical plant and other industrial facilities in the area. That big Texaco gas plant was about 7 miles south of Erath at a little town – or wide opening in the road – named Henry. The plant was called the Henry Gas Processing Plant.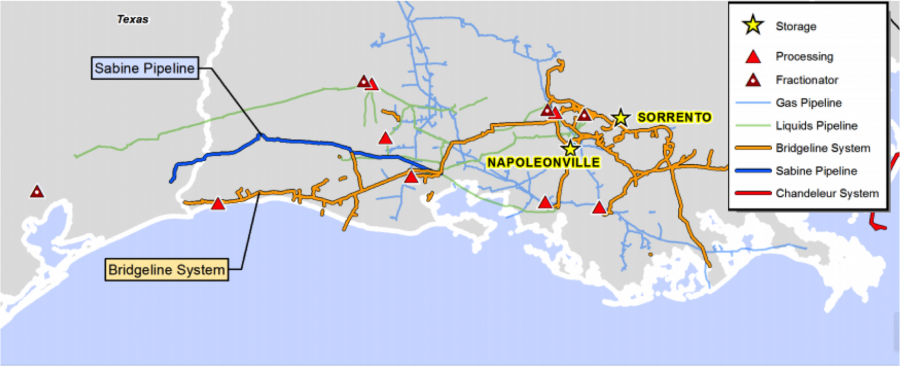 The configuration of Sabine Pipeline has changed little in the past 25 years but its role in the natural gas market transformed in the late 1980s from a struggling asset to the backbone of a thriving trading hub. At the time, processing volumes at the Henry plant had been declining for decades. Offshore gas production that fed the Henry plant was falling and the gas was becoming leaner – lowering the BTU content and thus reducing the production of NGLs from the plant. Worse yet, regulatory changes had resulted in further constraints on Sabine throughput. Increasingly, Sabine was looking like a dead asset. However, it had several things going for it: (a) it was very well connected to a lot of different pipelines; (b) all of these connecting pipelines were vastly oversized since volumes had declined, thus there was ample capacity available; and (c) two highly qualified Texaco executives – Jagjit Yadav and Bill English – devised ways to make it highly marketable, not only as a hub but also as the basis for a NYMEX futures contract.
Specifically, they came up with a number of innovative trading and delivery solutions that later proved critical for the success of the Hub. For one, they developed a creative imbalance agreement with the other pipelines that vastly simplified the physical delivery process. Second, they were able to get FERC to approve a regulatory structure that allowed Sabine and the Texaco intrastate system (called Bridgeline) to be operated as a single system, which vastly simplified operations. And, third, they gave it a catchy name and provided a schematic of all the connections into the hub in a format that financial traders – the likely first significant adopters – could grasp, essentially giving it a marketing spin that would help sell the concept. They called it the Henry Hub.
In addition, Jagjit and Bill came up with a way to make money on all of this while ensuring liquidity – a highly efficient accounting mechanism called Intra-Hub Transfers (IHT). In a major turn of events for Sabine and the gas market, all of this helped elevate the pipeline and its connections to achieve the status of "industry benchmark hub." NYMEX selected the Henry Hub as its delivery point and started trading futures contracts for natural gas in April 1990.  The rest, as they say, is history.
Defining Features
First, it is not a hub in the common understanding of the term – as a hub-and-spoke system with a single set of valves and pipes in the middle and pipelines fanning out from its centre – though it is often portrayed as one, for simplicity's sake. The diagram in Figure 2 is an example of such a simplified schematic.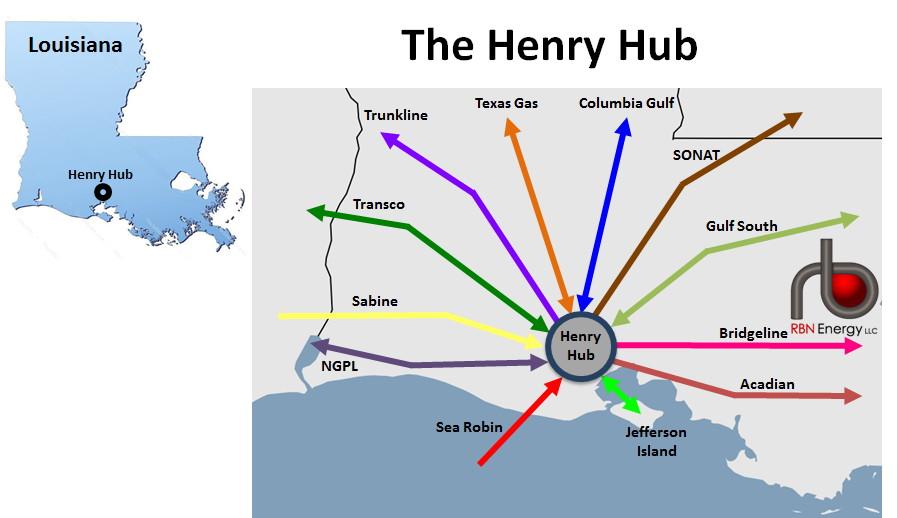 But in reality the pipelines are located significant distances apart and connect across the spaghetti bowl of pipelines that crisscross Vermillion Parish in South Louisiana.  Figure 3, inside the circle is a more realistic representation of what the Henry Hub looks like – the blue dots are gas processing plants.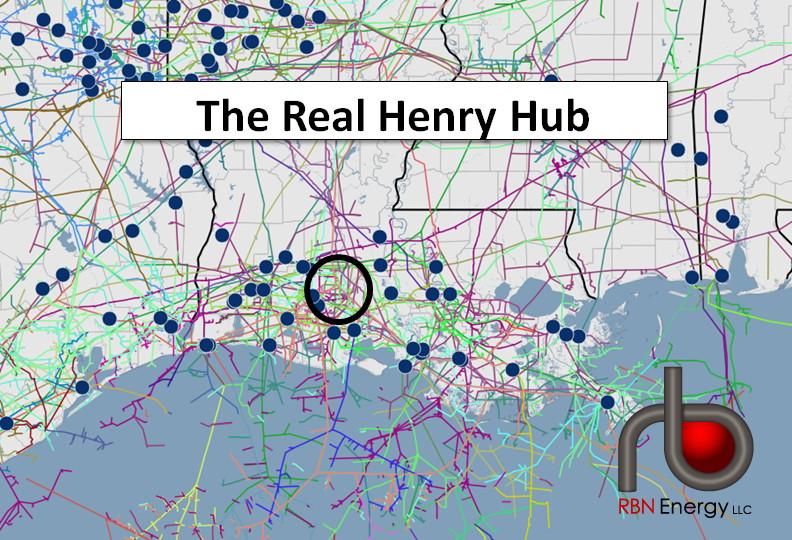 Second, for the same reason, the Henry Hub is not all at Henry, LA. In fact, the Henry gas processing plant shut down more than ten years ago, and the hub interconnects to Sabine are scattered across the area around Henry. Thus the name Henry Hub is more a remnant of its origins and a metaphysical concept, not a place where a lot of pipelines all connect at a single point. Despite the slight misnomer, the concept does still apply. The Sabine system really does provide interconnects to eleven pipelines designated the Henry interconnects: Columbia Gulf (CGT), Gulf South, Bridgeline Intrastate, NGPL, Sea Robin, Southern Natural (SONAT), Texas Gas, Williams/Transco, Trunkline, Arcadian, Jefferson Island Storage and of course Sabine. And Sabine continues westward, where it connects to another thirteen facilities in Louisiana and nine more in Texas.
But Henry is one big, important thing: highly liquid, which is a necessary criterion for a successful futures contract. Henry Hub is the delivery location for a futures contract that trades on average about 350,000 contracts per day. It is also one of the most liquid physical points on the ICE day-ahead trading system. If you want to place a big position in the forward market for U.S. natural gas and be assured you can unwind the position quickly, the Henry Hub is the place to be. Henry is also the benchmark for gas prices at all other pricing points, which are generally set at differentials to Henry. That means that Henry can be the rising tide that lifts all boats. Or vice versa. That fact had a huge (downward) impact on the gas market when a number of new pipelines from Texas shale gas plays were built in Henry's backyard in the 2006-08 timeframe. In the same vein, an industrial demand renaissance and the imminence of LNG exports in proximity to Henry Hub portend another wave of shifting price relationships over the next few years.
However, in spite of its liquidity, today not a lot of physical gas actually flows through Henry Hub, especially relative to its capacity or its traded volume both in the physical and futures markets. There are two reasons: (a) most futures contracts do not go to physical delivery and (b) the IHT system mentioned above actually 'nets out' many physical deals before they ever make it to a pump schedule.
Through the years changing market conditions have prompted calls for other hubs to supplant Henry as the national index, Perryville, Louisiana being one of the most recent. There is already talk of an alternative hub in Appalachia to sync up with the rapid growth of Marcellus natural gas production. No doubt Henry Hub will see dramatic changes over the next few years. The shale gas phenomenon combined with the local demand growth and the potential for LNG exports could change its value relative to other parts of the market in North America. However, Henry Hub is unlikely to lose its benchmark status.
By Sheetal Nasta for RBN Energy
Related posts